| | | | | |
| --- | --- | --- | --- | --- |
| Welcome to Brain Gym® in South Africa | Watch this great Video for more info on Brain Gym | | Watch this video for more info on Reflexes | |
Click Here
to View our Training Dates    
Click Here
to view our Advanced Students
Brain Gym® in South Africa is the only training centre in South Africa, which teaches the internationally recognised Brain Gym® and Educational Kinesiology Learning Track.

Brain Gym in South Africa NPC is a non-profit organisation. our registration number is 2013/142570/08
Brain Gym in South Africa is accredited with the ETDP SETA. Our Accreditation no is ETDP10122
Brain Gym in South Africa is also accredited with SACE (South Africa Council of Educators). Our registration no is: PR10846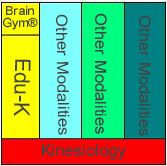 Brain Gym ® is a set of sensory-motor exercises based on the natural movements that kids do as they move through the developmental phases. These sensory-motor exercises develop the neural connections between the senses and the brain and the limbs and the muscles. For more information go to
www.braingym.org
What is Educational Kinesiology (Edu-K)?
Educational Kinesiology, (Edu-K) stands for Learning through movement. We use Edu-K to assist clients to unlock their potential. We do this by formulating goals and finding out what is internally blocking the client from reaching his/her goals. We use specialised techniques to diffuse the blocks. This creates a bridge for new learning or action. Go to the Success Stories page, to view a selection of our many successes.
How are Brain Gym® and Edu-K related?
The relationship between Edu-K and Brain Gym ® is explained with the diagram on the left. Brain Gym is a part of Edu-K, but it is just the tip of the iceberg of what a person can do to improve the quality of their lives.
How does Edu-K relate to other forms of Kinesiology?
There are many modalities within Kinesiology and Edu-K is one of them. Every modality has its uniqueness. Edu-K demonstrates that it can activate whole brain functioning which is necessary for growth and change and can be used in subjects ranging from learning difficulties (like ADD and ADHD) to building self-esteem; from overcoming trauma to dealing with work-related issues. The scope is endless.
What can Edu-K and Brain Gym® do for individuals, our community & society?
The diagram below is an illustration of how we change our society, by changing the individuals. As people get the opportunity to build self-esteem and unlock their potential, they share and help each other more. They uplift the people around them and thus affect their community. When more communities are affected, the more they influence society.
In other words: the more people use Edu-K and Brain Gym ® the greater the influence on our society will be.
You can use Edu-K and Brain Gym ® by either coming for an individual consultation or enter the learning track and learn to apply these powerful techniques yourself.
If you want to come for consultations, go to the practitioners list and find a person in your area. If you want to learn Brain Gym ® and Edu-K then find a trainer in your area from the trainer's list.